LEROY SIBBLES "MR DYNAMITE" FOR STARTIME JANUARY 9
Both a wonderful vocalist and fine bassist, Leroy Sibbles initially gained fame as lead singer for the Heptones trio, one of Jamaica's most popular groups of all time, a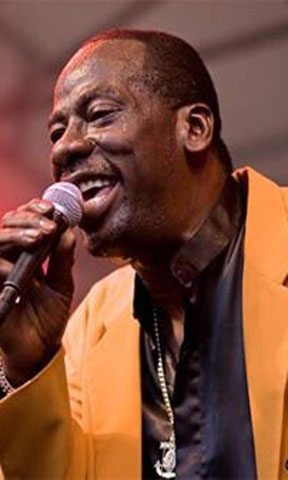 accomplished at both rocksteady and reggae. Sibbles ' wonderously soulful leads and excellent compositions were augmented by his smooth, hypnotic bass lines.
Unfortunately, a once musically profitable relationship soured, but Sibbles has gone on to pursue a very successful solo career which sees him still ranked among Jamaica's best performers with a rock-solid stage act which is still in demand locally and internationally.
In fact, a closer look at his bass-playing career reveals an enprmous contribution to the feel and direction of Jamaican music through one of its most creative eras. Beyond his work as a singer/songwriter, Sibbles' contribution as a bass player to the collective output and enduring legacy of Studio One is perhaps his greatest achievement. Sibbles was encouraged to learn the bass by Jamaican music giant and Studio One keyboardist/arranger Jackie Mittoo, who needed a bass player for live performances of a lounge trio and the rest is history !!
When Mittoo migrated to Canada and left full time duties at Studio One, Sibbles arranged sessions, sang harmony, and played bass as a part of the studio crew variously known as the Soul Vendors or Sound Dimension. These musicians, with the notable aid of engineer Sylvan Morris, dropped their rhythms behind vocalists Bob Andy, Alton Ellis, Horace Andy, Carlton Manning, The Abyssinians, The Gladiators, Willie Williams, Ken Boothe, John Holt, Burning Spear, Dennis Brown, Slim Smith, and scores of others. Sibbles was a key contributor to tracks like Roy Richards' Freedom Blues, Love Me Forever by Carlton & The Shoes, Satta Amassaganna and Declaration of Rights by the Abyssinians, Stars and "Queen of the Minstrel" by The Eternals led byCornell Campbell, "Ten To One" by the Mad Lads, "Door Peep" by Burning Spear, and instrumentals like "Real Rock" RockFort Rock, Swing Easy and "Full Up." As a solo artist, Sibbles worked with Lloyd "Bullwackie" Barnes, Lloyd Parks, Sly & Robbie, Augustus Pablo, and Lee Perry.
Sibbles moved to Canada in 1973 and became a sizable pop reggae star. In Canada, Sibbles won a Juno award, recorded an album for A&M and cut several good albums for Pete Weston's Micron label. On stage, it's all dynamic action as he holds his audiences spellbound belting out hits like Party Time, Sweet Talking, Heptones Gonna Fight, Equal Rights, The Impressions classic Choice Of Colours, Fatty Fatty, Book of Rules, Pretty Looks, Why Did You Leave, Only Sixteen, I Shall Be Released, Baby Be True, Get In The Groove, and Give Me The Right.
In recent years Sibbles has been working on new material at his studio in Kingston. He's also producing for popular artists, up and coming singers, and composing new songs. In the near future, he plans to release more original material. But on Saturday January 9, at the Mas Camp, it's oldies time as Leroy belts out the big hits which have made him an artist that the Startime crowds travel miles to see.